How to make your own website

A letter to you from the Jax:
Have you ever wondered what it would take to make your own website? Not sure where to begin or what to do? I would like to share with you the secret of how I made this website, which is now in the Top 1% of all websites on the internet! Well, it's really not a secret. I'll be glad to tell you!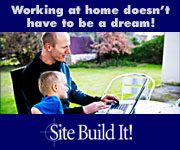 How did I do it? Well, some time back I decided I would like to start my own home based business and I figured the internet would be the way to go. I could stay at home and work and use the internet. After all, the internet is really popular and growing all the time, right?
But where to begin? Well, I found a company that offered an internet business program that was advertised as, "Anyone can do it!" Of course, I, like you (most likely) didn't have a clue about anything technical on the internet, so this, "Anyone can do it!" spiel really attracted me.
I spent thousands!

I spent thousands of dollars on this program and quickly found out that it wasn't so easy to make your own website. I also found out that there are a lot of people on the internet that are offering programs that sound really good in their advertising, but once they get your money, their products aren't really what they said they were.
To make a long story short, I spent months trying to build my first website and it was very hard and very frustrating. I had to learn a lot of very complicated technical stuff that took forever and I was getting very little traffic to my website. It was very disheartening to see that all my hard work wasn't producing anything.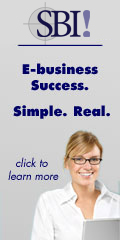 While I was searching on the web to find out information about how to do some silly thing like putting a caption under a picture (which the company I was using couldn't explain to me for some reason), I found a website that taught you how to do things like that. This website was made by a girl in her twenties who was having a lot of success with several websites she had made. She kept on raving about another website building company that had helped her called Site Build It. She couldn't say enough good things about SBI and how it had helped her internet businesses become a success.
Well, since I already had a company that was helping me, I overlooked her comments about SBI and didn't read anything further about it - at first! After months of having no success with my first website, I remembered this girl's recommendations about SBI and thought I'd have another look. If SBI was helping her, maybe it could help me. Anyway, I thought, just looking couldn't hurt.
Was SBI for real?

As soon as I started reading about SBI, I started seeing some numbers that really caught my attention. I read that SBI powered about 40,000 websites built by average people who mostly didn't have any technical background - like me! Of those 40,000 websites, about 35% of them were in the top 1% of all websites on the entire internet! I thought, "What? Is that possible?"
I kept reading and found that 53% of those 40,000 websites are in the top 2% of all websites. And then I found that 62% of those websites are in the top 3% of all websites. And this was an outside agency that conducted this report and found these numbers!
OK, now they had my attention! I had to find out more about this SBI. I found out that SBI was started by a businessman in Canada named Ken Evoy and he founded SBI to help average people build their own successful website without having to have an extreme amount of internet technical know-how.
I watched several videos from other people who started SBI businesses, including this guy named Elad who started a website about... birthday parties! Now you might think, "How could someone build a successful website about birthday parties?" Well, Elad did it with the help of SBI and his websites get a couple million visitors a month!
You can watch the same short video I watched by Elad right here or You can read Elad's story here.
Then there was this other guy named Jim who was a juggler. He made a successful website about juggling! I thought, OK, if these guys can do this, maybe there is some hope for me. I knew a lot about the Revolutionary War and wanted to turn my amateur knowledge into a website. If these guys could turn their knowledge and hobbies into a business, hopefully I could, too.
I started reading about all the tools and features SBI offered and they seemed a lot more thorough and comprehensive than the other company I was using. Well, actually, that wouldn't have been too hard since they didn't offer much.

Then I found what was like a gold mine to me. I found this page in the SBI information called the SBI Results page that listed hundreds of websites created with SBI by average people and all of them were in the Top 1% of all websites. I began to look through each of them and I found all kinds of interesting things that people were making websites about. There were websites about losing weight, building a house, gardening, travel to exotic places, curling hair, playing the guitar, learning another language, even one about how to choose a name for your dog! They were just average people making websites about their hobbies and interests... and turning them into successful businesses. This page is what convinced me that SBI was way better than the other company I was using and I went ahead and spent... only a few hundred dollars for SBI! Wow, if only I had found SBI first, sigh! You can see this very impressive Results page that hooked me on SBI here. Oh, and by the way, my website is now on that very page! And they're not just in the top 1% of all websites now. They're in the top .5%!

How am I doing now?

Well, you're probably wondering, "So how is your website doing, Minuteman?" I am very proud to say that after only eight months, this Revolutionary War and Beyond site received 10,259 individual visitors during November, 2008! 6,700 in one month! I couldn't get that many in ten years on my old site with the other company!
This number of visitors grows every month:
April 2008 - 129 visitors
May 2008 - 422 visitors
June 2008 - 698 visitors
July 2008 - 2102 visitors (this month was an anomaly because of the July 4th holiday - a lot of people are looking for information about the Revolutionary War during July 4th!)
August 2008 - 1848 visitors
September 2008 - 6713 visitors
October 2008 - 9088 visitors
November 2008 - 10259 visitors
See how it keeps growing every month? Back in those early months I only had a few pages up on this website and I was still getting a fair amount of traffic. As I've added pages over time the traffic has grown. Really, the sky's the limit with what I can do here! I can write about what I know about and other people out there will find it through the search engines like Google and Yahoo. My pages were viewed 27,000 times during the month of September!
And the best thing? I'm finally making some money! Through various money making efforts on my website, the dough is finally starting to roll in! I'm so happy. I can't tell you how many times I wake up in the morning and look at the statistics for the day before and say, "Wow!" In fact, that is my new number one word, "Wow," I say it so often when I'm working on my website.
**********November 2009 UPDATE**********
It's been a year since I gave you those numbers listed above (which were pretty good in themselves!) But NOW, a year later, WOW!!! And DOUBLE WOW!!! Just look at the numbers now! They have literally shot through the roof! Look at the total number of visitors to this site in the last few months:
September 2009 - 27762 visitors
October 2009 - 37075 visitors
November 2009 - 35882 visitors(this month is down a little cause of the holiday)
The month of October 2009 had over 90,000 page views! Wow! (my favorite word again!) That means the pages I created were viewed 90,000 individual times - in just one month! Can you believe it? Sometimes when I get up in the morning and look at the previous day's statistics I can hardly believe it! This keeps getting better and better - literally!
**********September 2010 UPDATE**********
In the past year, I got sidetracked with a few other things and didn't really do a whole lot with this website, but, as usual, the traffic continued to grow! Just look at the monthly statistics and how they continually rise (keep in mind that a lot of students use this site, so traffic in the summer months goes down because school is not in session):
January 2010 - 40356 visitors
February 2010 - 44365 visitors
March 2010 - 41957 visitors
April 2010 - 41305 visitors
May 2010 - 40734 visitors
June 2010 - 24669 visitors
July 2010 - 23770 visitors
August 2010 - 22737 visitors
September 2010 - 57775 visitors
Notice how the traffic shot up again when school started? The month of September 2010 had over 143,954 page views! Wow! That means the pages I created were viewed over 143,000 times - in one month alone! If you add up the visitors from each month, you will notice that there were over 360,000 visitors to this site since January of this year! Wow again! And guess what? September 2010 was the first month that I earned $1000 from this website in just one month! The work that I started 2 1/2 years ago is now really starting to PAY off, literally! Do you know that ANYONE, including YOU can do what I did?
**********June 2011 UPDATE**********
And the statistics now??? Wow!
January 2011 - 79954 visitors
February 2011 - 88893 visitors
March 2011 - 88538 visitors
April 2011 - 82392 visitors
May 2011 - 82772 visitors
Look at these statistics! It's so exciting and gratifying to see my work paying off. This is roughly double the number of visitors I was receiving a year ago at this time. I can't wait to see how far it grows in the next year! I PROMISE you that YOU can do this too! SBI makes GOOD on it's promises.
**********January 2013 UPDATE**********
Guess what? In 2011 and in 2012, this website had over one million visitors! Two years in a row! Simply amazing!
Would you like to make your own website?


Well, that's my story. If you would like to learn more about the features of Solo Build It and how it might help you make your own website that is both successful and earning you money, you can click here and I'll give you more details about how to go about it.
If you're ready now, you can learn more about ordering Solo Build It here. If you don't think you could ever make your own website, if you think you could never be technically savvy enough to make your own website or if you aren't sure what you could make a website about, think again. It certainly takes effort, but just about anyone has the smarts to do it. Look at how these people did it.
One easy and convenient way to learn more about Solo Build It is to follow their updates on Facebook or Twitter. If you are a member of either of these sites, be sure to check out Solo Build It's pages there to learn more.
If a website is really not in the picture for you, that's OK, too. I trust that you will find another way to make your dreams come true. I hope you enjoy my website and thanks for reading my story!
Go to make your own website page 2 to learn more.

Return to top of Make your own website
Revolutionary War and Beyond Home
Like This Page?